In Part III of the Six-Part Blog Series on Social Business Strategy, I discuss the importance of shifting the focus away from features and onto meaningful human interactions that drive adoption.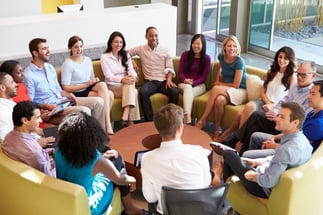 The goal of any social business strategy is, of course, business. You want to drive productivity by improving employee engagement. You want to convert tacit knowledge - the "know-how" that's tucked away inside your star performers' heads - into explicit knowledge that can be shared between workgroups. Finally, you want to reduce time spent in meetings or combing through email inboxes.
The secret to getting business up and running on social software is to make the environment "people-friendly." Like a good dinner party where people come for the prime rib and stay for the conversation, people will be drawn to your social intranet by the kinds of interactions they can have with other people in the organization. Feature bells and whistles don't draw people - people draw people. Your social programs and campaigns - and not the software - will be your best path to rapid adoption and growth.

"Bells and Whistles" Are Nice But It's People Who Attract People
Don't rely on platform features to drive conversation. As with the dinner party mentioned above, it takes a good host to get conversation rolling. Once people are part of the conversation they will start to discover the system features that make the experience more dynamic and effective.
Tap your early adopters from your initial launch or test projects for the roles of Community Manager or Intranet Evangelist. Keep an eye out for Subject Matter Experts who can drive specific conversations on areas of interest across the company. Encourage your hosts/evangelists/experts to reach out to the people on their own teams to join the conversation.
Quantify Interactions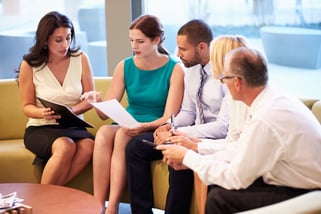 Be sure to take the time to study the kinds of interactions taking place on your social intranet, especially in the early stages. Who are the conversation leaders? How many people start new topics compared to the number of people participating in existing topics? Senior leadership is most interesting in this type of information and reinforces their buy-in. Reporting also provides important insights for fine tuning your strategy and informs your next moves.
As you move toward the next stages of your social business initiative meet with your conversation leaders and brainstorm ways that you can steer the conversation toward specific business concerns. This way your roll-out will be more natural and more likely to address the real business needs of employees.
Want to know more? Read the White Paper on the Six Strategies for a Successful Social Business that will guide you in building and implementing your strategy.